Agriculture
Fresh Produce
Ecore produce a full range of fresh produce packaging for fruits and vegetables industry. The corrugated plastic boxes are made from food contact grade Polypropylene which is waterproof and chemical resistant. The main products include nestable totes for fruits picking up, plastic packaging boxes for ginger, garlic, asparagus, grapes, apples, etc. They work well in both cool house and hot house, much more durable than paper cardboard box, and 100% recyclable.
Features:
Durable
Flat packed
Lightweight
Food contact safe
Liquid resistant
Custom designs
Cost effective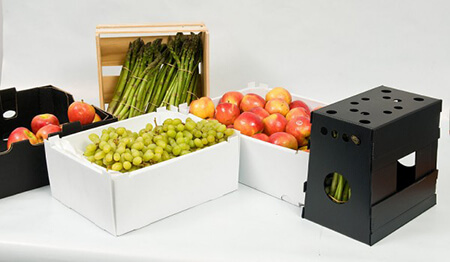 Vine and Tree Guards
The tree guards are also known as tree shelters or vine guards, they are made from UV resistant homo-polymers and can withstand severe outdoor weather conditions. Ecore tree guards are specially designed to protect young plants from wild animal biting, and in the meantime boost the plants growth under proper temperature and enough sunlight.
Features:
UV resistant
Easy installation
Triangular or square guard design
Tab locks or ultrasonic welded
Excellent light transmittance
Longer lifespan
100% recyclable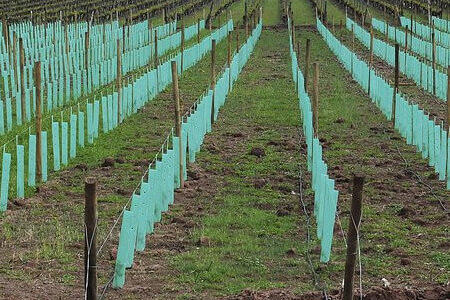 Corrugated Plastic Box Corrugated plastic box is made from 3-5mm corrugated plastic sheet, it's very lightweight, moisture-proof and much durable, customer design, color and printing is

[…]

Fresh Asparagus Boxes Fresh asparagus boxes are made from 3mm cartonplast(twin wall PP sheet), it's very lightweight, moisture-proof and much durable, customer design, color and printing

[…]

Corrugated Plastic Totes Corrugated plastic totes are made from 4mm corrugated plastic sheet, and with wire frame reinforcement, it's very lightweight, steady and durable, custom logo

[…]

Archive Storage Carton Made from 3-4mm corrugated PP sheet, archive storage carton is very lightweight, durable and cost-effective, it is usually used for archive/paperwork storage in

[…]

Corrugated Plastic Mail Trays Corrugated plastic mail trays are made from 4mm corrugated PP sheet, and with wire frame reinforcement, it's very lightweight, steady and durable,

[…]

Plastic Vine Guard Plastic vine guard is made from 2.5mm twin wall PP or PE sheet, excellent light transmittance helps the growth of plants, it also

[…]

Single-faced Corrugated Plastic Tree Wrap Single-faced Corrugated Plastic Tree Wrap is made from 4mm single-wall corrugated plastic sheet, which is very flexible and easy to install

[…]

Corflute Tree Shelters Corflute tree shelters are made from 2.5mm twin wall PP or PE sheet, excellent light transmittance helps the growth of plants, it also

[…]