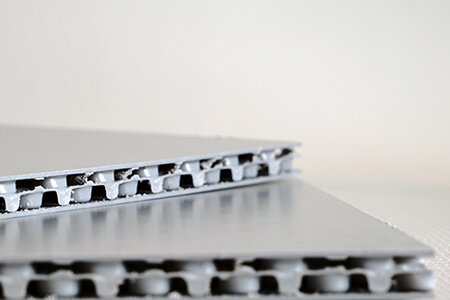 PP honeycomb panels are a sandwich structured plastic panels, which are composed of multi-layer Polypropylene sheets, with two pieces of solid fat layers and one piece of thermoformed bubble layers in between.
Such structure makes it super strong, much durable yet lightweight, besides, it also has features of chemical-resistant, waterproof, easy to convert, and 100% recyclable. That is to say, PP honeycomb panels have advantages that paper honeycomb panels don't have. For instance, the paper honeycomb panels are not waterproof, nor chemical resistant, and with shorter lifespans.
Due to its versatility, the plastic honeycomb panels are widely used in the automobile industry, storage & transport industry, general packaging, and signage print industry, etc. At Ecore Pack, we provide a full bundle of packaging solutions, including design, cut to shape, print, and sample development.